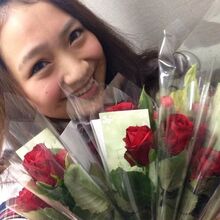 Yoshizawa Himika
(吉沢妃美香) is a former second generation member of
AKIHABARA Backstage pass
, she graduated from the cafe on December 30, 2012.
Name: Yoshizawa Himika (吉沢妃美香)
Birthdate: October 22, 1993
Birthplace: Kanagawa, Japan
Charm points: dimples, eyes
She's a fan of Sasaki Nozomi, GIRLS GENERATION and Kawakita Mayuko.
External Links
Edit
Ad blocker interference detected!
Wikia is a free-to-use site that makes money from advertising. We have a modified experience for viewers using ad blockers

Wikia is not accessible if you've made further modifications. Remove the custom ad blocker rule(s) and the page will load as expected.